It'll be a big day for the cruise world as Royal Caribbean's record-breaking Symphony of the Seassails with paying passengers for the first time.  
The 228,081-ton vessel — the largest cruise ship ever — is departing Barcelona Saturday evening on a five-night voyage to Italy that features stops in Naples and Civitavecchia, the port for Rome. 
Designed for vacationers who love big, bustling mega-resorts, Symphony is built on the same platform as Royal Caribbean's 22-month-old Harmony of the Seas, the previous size leader in cruising. But it eclipses its sibling by more than 1,000 tons and offers several new features.
Why we love giant cruise ships like Symphony | Yes, an even bigger sister to Symphony is on the way | Preview the year's hottest new ships
Among the additions are a first-of-its-kind, two-deck-high family suite with a slide between floors, a revamped Boardwalk amusement area, a new laser tag attraction and a new-for-Royal Caribbean seafood restaurant. Symphony also has more cabins than Harmony. 
FacebookTwitterGoogle+LinkedIn First look: The Ultimate Family Suite on Symphony of the Seas Fullscreen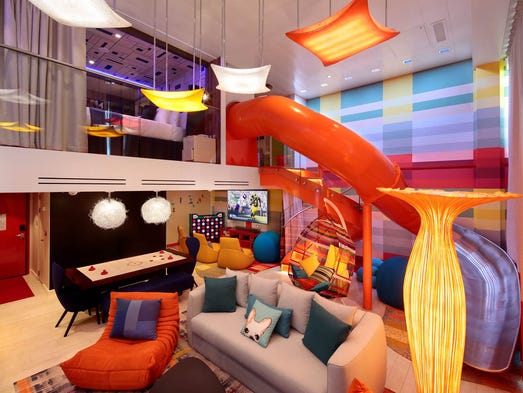 The Ultimate Family Suite on Royal Caribbean's Symphony of the Seas features two bedrooms and is chock full of fun zones.  Royal Caribbean International
Next Slide29 PhotosFirst look: The Ultimate Family Suite on Symphony of the Seas
Symphony can hold up to 6,680 passengers and sails with a crew of 2,200, meaning that on busy weeks it could be home to nearly 9,000 people.
Symphony has been under construction since early 2015 at the giant STX France shipyard in St. Nazaire, France — the same shipyard that built Harmony. Built at a cost of more than $1 billion, it was delivered to Royal Caribbean in St. Nazaire on March 23 and has spent the past week re-positioning to Barcelona.
Symphony will spend its first few months sailing in the Mediterranean out of Barcelona before moving to Miami to operate cruises to the Caribbean. 
For More You Can Check: